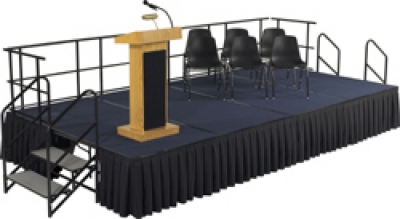 Request More Information
Whether you need a raised head table or a speakers platform, we will provide staging and risers for any event. Choose from economical folding leg stage pieces to Mobile Stages that fold up onto casters for easy moving and storage! We will navigate the options and help provide the perfect solution for your facility! Call for available options!
FOLDING LEG STAGING
This staging is economical and functional. Each Stage section folds flat for transport and storage on available carts. This is an easy to use solution. Available in popular sizes and with carpet or a hardboard surface. Call for options including sizes and dual height options!
Pair this stage with available skirting!
Mobile Staging
It's called Mobile for a reason!!
This stage couldn't be easier to use!! Folds in half on to wheels for quick and easy set ups and tear downs. These pieces are available in a variety of sizes and heights and carpet colors.