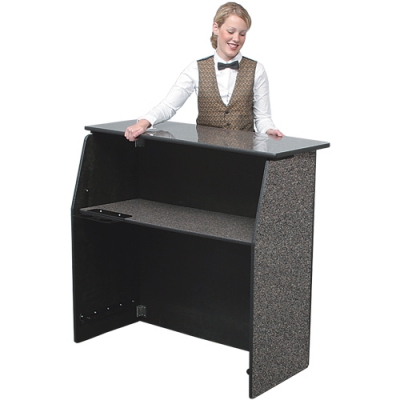 Request More Information
Portable Bars are great looking and perfect for any occasion. Whether in the banquet room or an extra bar outside, we can find the perfect solution!
Folding Portable Bar
These bars will fold for easy transport and storage- remove the top and the shelf and the sides fold flat. Use optional cover to keep pieces together!! Available in a 4' long or 6' long bar, these come in several colors or use a skirt to customize the look.
Laminate Color Choices: Black - White- Blackstar Granite
Bar Top Risers
Bar tops attach to existing banquet tables or serpentine tables to provide an easy setup for a bar or buffet. Attachment with a bracket and thumbscrew secure these toppers to any 3/4" plywood table. Available to attach to 6' and 8' banquet tables or to existing serpentine tables these tops are available in plywood or laminate tops.
Add available skirting for a quick and attractive setup!
A Spandex Bar Cover will revitalize your tired looking old bars!! Just Ask.