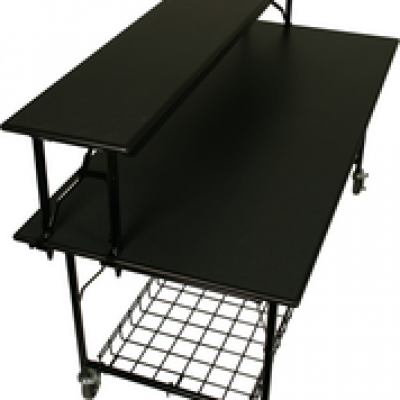 Request More Information
Make a clean break from traditional buffet tables by choosing a Mobile Buffet Table. Available with self-healing MAXX Edge® literally bonds itself to the table core, leaving no filthy gaps for food or bacteria to collect and no unsightly seams. This polyurethane edge provides the most durable and hygienic surface possible. With your choice of Formica or Wilsonart® laminates, this table offers an elegant, roll-away solution for portable food service. Also available with Plywood tops and Bullnose edge. Build your perfect Mobile Buffet with optional bar top and rack. Heavy duty 5" Casters make transport a breeze, even when loaded!!
Features:
MAXX Edge® - A perfect finish to your tables. Literally bonded to the table core, MAXX Edge® leaves no gaps for food or bacteria to collect. MAXX Edge® is an improvement to traditional T-molded edging.
Solid plywood core
High-pressure laminate surface
Feature a removable storage rack and buffet tier. For convenient storage, folding legs allow these tables to be stored compactly when not in use.
Can be ordered without the buffet table tier - the result is a highly portable and storable utility table for a temporary work surface.
Feature smooth-rolling casters and are easily secured using a convenient foot-brake.
Available Sizes and Options:
30" Wide X 6' and 8'
Optional Plywood top or Laminate top
Optional MAXX Edge or Bullnose edge
Optional Rack is removable and storable
Second Tier is Removable and storable