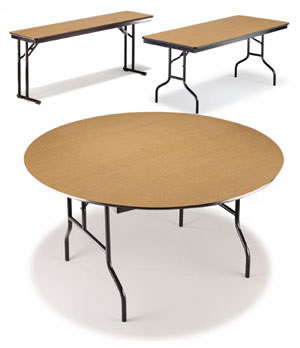 Request More Information
These tables are attractive without a cover. Easy to clean surface make these a favorite in dining rooms and conference rooms. High Pressure Laminate provides a hygeinic and easy to clean surface for dining rooms and banquet halls. Perfect for conferences and meetings with smooth writing surface.
Equipped with High Pressure Laminate tops over a ¾" plywood core. Bullnose Edge and Steel Frame Support. Wishbone legs for seating without leg interference. Conference table available with Comfort leg.
Laminate Cocktail Tables in X-Fold(Fold to save storage space) - Knockdown cocktail(Break Down to 3 Parts) - Rollers(top folds down and tables roll on casters and nest) Available with PS Rollers Laminate Tables - Tops Flip up and tables roll on casters for easy setups and storage!
Color Options:
Laminate Color Choice - Choose from Wood Grain Laminate or customize your space with colors for every decor
Leg Color: Black or Brown
Available Sizes:
Banquet: 30" and 36" Wide X 4'-5'-6'-8'
Round: 42"-48"-54"-60"-66"-72" (72" Round has a Seam)
Half Round and Quarter Round
Game Tables: 30" and 36" Round and Square
Seminar: 18" and 24" X 5'-6'-8' - (Standard or Comfort Leg)
Bench Available 12" X 6'-8' X 18" Tall