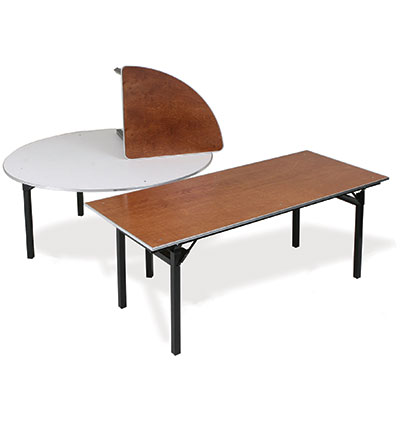 Request More Information
Long the preferred choice of luxury hotels worldwide, This Traditional Hospitality Plywood Folding tables feature 90° square corners for clean setups, a rugged yet finished C-Channel aluminum edge and a self-locking 1.5" diameter Black square folding leg. Available in Wood tops or Padded Tops. Priced right for ClubProcure Clients.
Add your linens or an Aluminum Table Topper and Spandex cover for a finished look!
Features:
Top Surface - Choose from UV coated wood or foam padded top surface
Self-Locking Folding Leg - The traditional choice for ultimate handling convenience
Unitized Chassis - Steel rails and folding legs are riveted to form a single unit
Rugged C-Channel aluminum edge
5/8" plywood top
Available Sizes:
Banquet: 30" and 36" Wide X 5'-6'-8' Long
Round and Square: 30"-36" 48"-60"-72" Round 66"
Conference: 18" and 24" Wide X 5'-6'-8' Long
Half Round
Quarter Round
Serpentine
Cocktail Tables