Plywood Folding Event Tables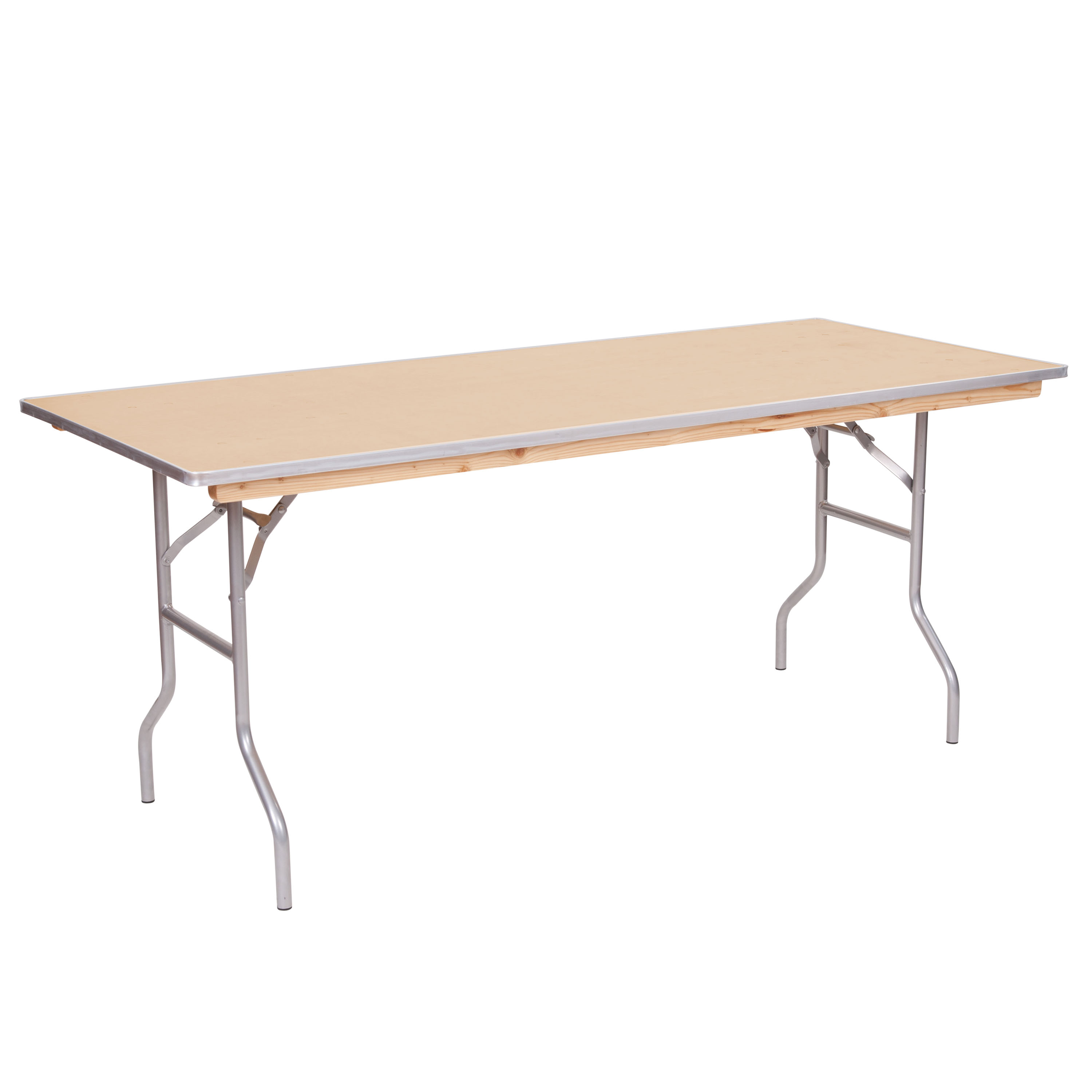 Request More Information
Wood top tables are the workhorse of the Event Industry!! We will navigate all the offerings in the marketplace and provide the very best quality tables for every budget!!
Solid plywood tables are built to endure years of demanding use, moving and storage. Available with a metal edge or a extra tough rubber bull nose edge for extra protection for your table edges and 100% bolt thru construction. Wood top tables are finished with a hard Polyurethane finish in the light blonde or stained color for years use.
Features:
3/4" Plywood tops with polyurethane finish on top and bottom
Bullnose edge or Metal Edge
Wood support runners run the length of the table
Wishbone legs to cut down on interference with chairs and seating
Legs and runners are bolted through for extra support
Non marring glides protect floors
Also Available with 5/8" Plywood tops with Rubber Bull Nose Edge
Available Sizes:
Round or Square folding Tables available in 30"-36"-48"-54"-60"-66"-72" Round or Square
Banquet Sizes: 30" and 36" Wide by 5'-6'-8'
Available in Half Round/ Quarter Round/ Serpentine Shapes and Training Tables
Bar Tops Available for Rectangle for Serpentines
Cocktail Tables
Bar Tops
Bar tops are the perfect way to turn a table into a cost effective portable bar! Add a Bar top to your banquet tables or your serpentine tables, with a skirt or spandex cover the Bar is Open!! These tables should fit any of your 3/4" top tables.
Choose from a plywood top Bartop or one of our Black or White Laminate top Bartops.
Skirting & Toppers
Dress up your plywood tables with Table Skirting and table cloths from one of our top notch suppliers. Available in a poly material or get fancy with one of our prints.
Go Linenless with our Aluminum Toppers and Spandex. Built to perfectly fit your wood top tables, these toppers make a statement!! Elegant and beautiful colors and finishes add a touch of class to any event or buffet setup- Hot or Cold! Use an Aluminum Riser to make your setup shine.